What are the best locations in Africa for a walking safari?
There are two types of walking safaris. There are the short morning and afternoon guided walks and the multi day guided walking safaris. They both have in common that you walk through wildlife territory, and if there are cats and other big mammals, an armed ranger will be part of the walk.
A short walk sometimes starts with a short drive to a starting point or you walk straight out of the gate at your accommodation. Walks are not longer than 3 hours. A multi day hike includes longer walks with a siesta in between, requires a better fitness and sometimes entails different camps with bush showers every night. A cook will be preparing your meals which you can enjoy around the campfire. No luxury lodges with swimming pools, but surrounded by nature 24/7 for the ultimate bush experience.
1. Zimbabwe
Zimbabwe has had the best trained walking safari guides for years. With very minimum tourist, you will be secured of a pure and wonderful wildlife experience. In Hwange you will most likely get close encounters with an elephant while in Mana Pools the river banks give you a more open walking experience.
Best locations: Hwange National Park and Mana Pools
Best season: June – October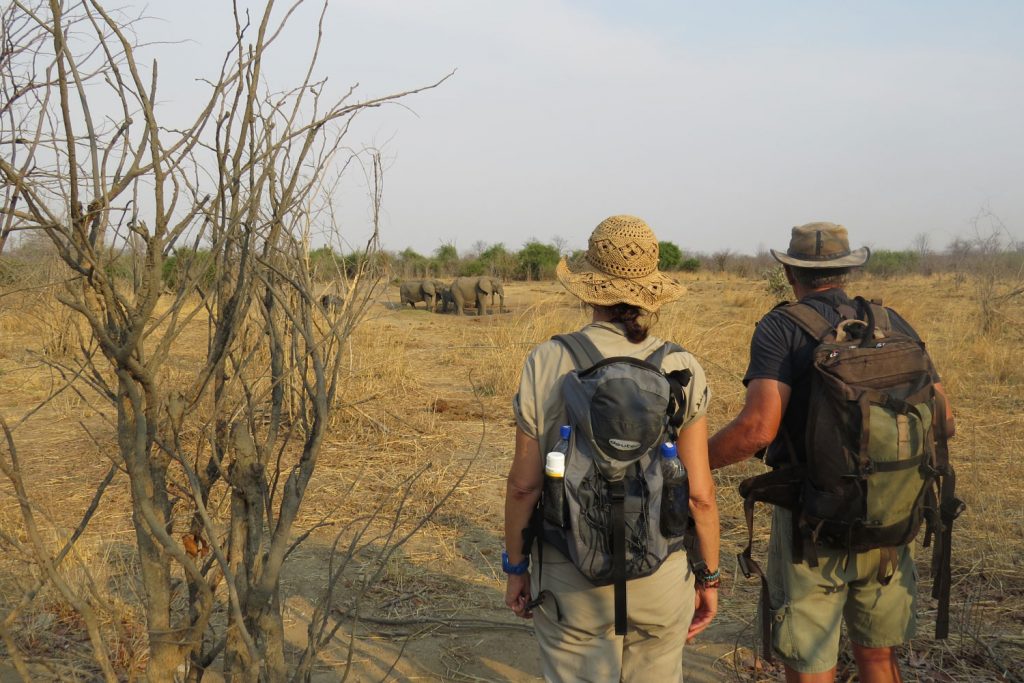 2. Zambia
Zambia comes very close to Zimbabwe when it comes to well trained and experienced walking safari guides. Nature is also remote and untouched. In North Luangwa National Park some small scale upmarket tented camps have created a very unique walking experience through one of the most remote parts of Africa.
Best locations: South and North Luangwa National Park, Lower Zambezi National Park and Busanga Plains Kafue National Park area
Best season: June – October
3. Kenya
Kenya is becoming more popular and experienced with walking safaris. Especially in the north of the country. The uniqueness of Kenya is that you will be guided most often by a Masai warrior and they know the land the best like no other.
Best locations: Samburu National Reserve; Masai Mara Private Concessions; Tsavo West National Park
Best season: May – October and December – February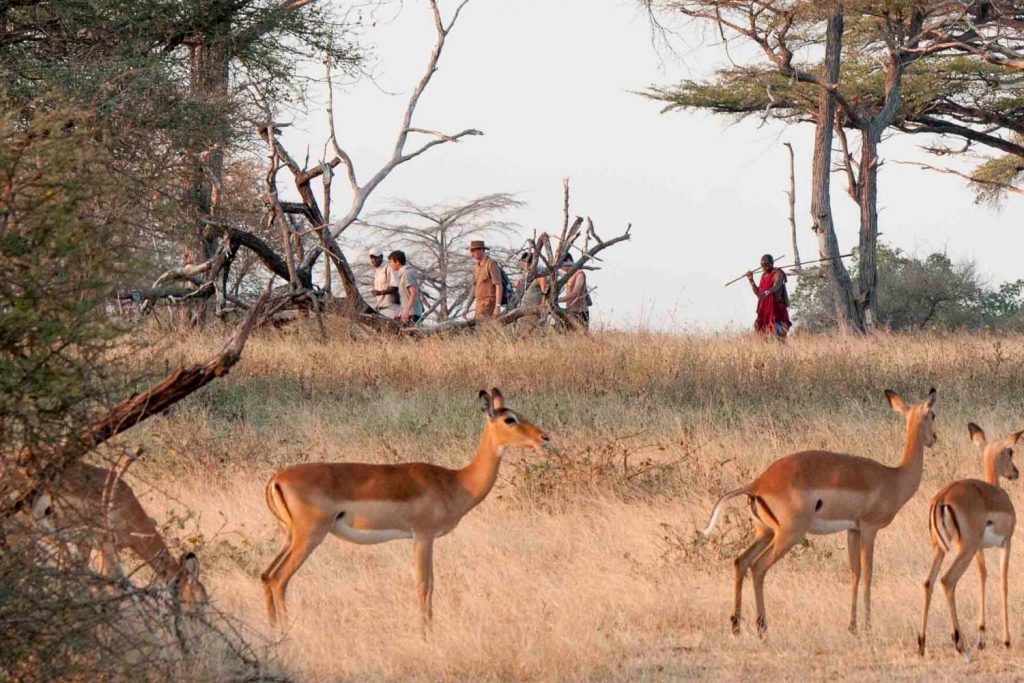 4. Botswana
Botswana is becoming a better walking safari destination but it can also be very hot and humit around the Okavango Delta. Most travellers will experience a short walk in the Okavango Delta as part of their multi day Mokoro experience. But small group tours and fly in guest will have some nice walks in Moremi and Khwai. Those who want to witness the zebra migration will love a walk over the Makgadikgadi Salt Pans around December/January.
Best locations: Okavango Delta; Moremi Game Reserve; Khwai Community Area; Makgadikgadi Salt Pans
Best season: April – October
5. Uganda
Gorilla and Chimp trekkings are not considered walking safaris but when doing a trekking you can come across other primates and elephants. It's a walk through rainforest rather than savannas. In Mburu National Park you can do walking safaris.
Best locations: Mburu National Park; Bwindi Impenetrable National Park; Mgahinga Gorilla National Park
Best season: May – October and December – February
6. South Africa
Walking safaris in Kruger National Park and the private game reserves like Sabi Sabi and Balule Game Reserves are a good experience. Well trained guides, big 5 territory, your senses will be triggered when joining a morning walking safari! Kruger also offers a multi day trail which needs to be pre booked well in advance. In KwaZulu Natal you can often enjoy a bush walk too.
Best location: (Greater) Kruger National Park
Best season: May – October
7. Tanzania
Ruaha National Park in the southern park of Tanzania is the best location for a walking safari in Tanzania. They have also started with walking safaris in the Serengeti but we feel that guides are not yet very well trained off that we do not promote this activity a lot to our clients.
Best location: Ruaha National Park
Best season: Mid June – October
Book a walking safari
Check out our trips to Africa which include or have the possibility to enjoy a walking safari!