Explore Africa with your own 4WD and enjoy the ultimate wildlife experience! We offer guided self drive safari's, just 4×4 rental and we do have a campsite service where we will prebook all campsites for you. Start in Johannesburg, Cape-Town, Windhoek, Maun, Victoria Falls or Livingstone. We offer 4×4 rental cars in South-Africa, Botswana, Namibia, Zimbabwe, Zambia and Mozambique. These countries are great to explore by yourself, searching for the big 5!
Highlights
Travelling with your own 4×4 through the African bush is an experience you will never forget; watching the wild animals from your own rooftop tent; exploring game parks with your own vehicle allows you to stop whenever you want; camping at the beautiful located and well equipped camp sites of Africa. Our 4×4 vehicles are new and very well maintained. We offer equipped (roof tents) and non equipped 4WD's.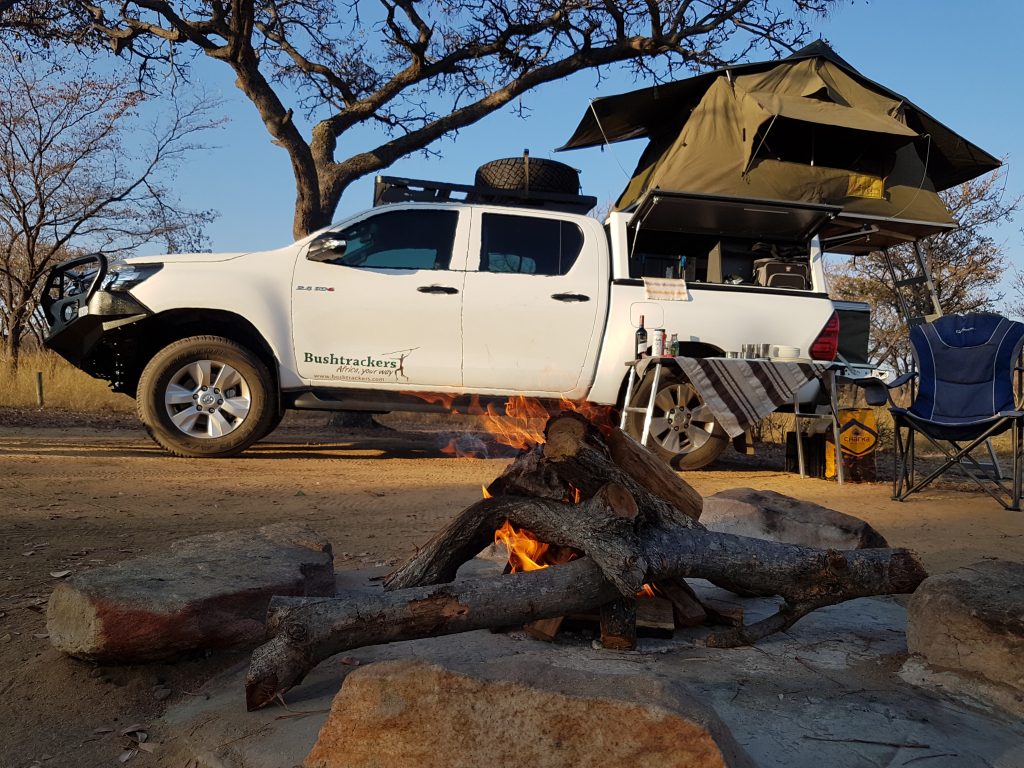 Included
14% VAT (Value Added Tax) in South Africa and 15% in Namibia
Standard Excess Insurance Cover excess
Administration and Credit Card Fees
Free transfer to and from the airport or accommodation
24/7 backup service
Unlimited kilometers
Contract fee
Cleaning fee
2 drivers
Unlimited advise from an African Travel Expert
Excluded
Cross border charges
One Way Rental Fee
GPS and/or satellite phone (recommened of travelling through remote areas)
E Toll
Reduced Excess Cover
Weekend surcharge
Visa fees
Flights (bookable on request)
Travel insurance or cancellation policy (bookable via us)
Campsite/lodge accommodation bookings
Detailed road maps
Additional drivers or camping equipment for a 5th person
Fuel
Please Note
Campsite reservations or lodge reservations can be booked according to your budget and preferences! Please contact us for sample itineraries and price indications!
Restrictions
Minimum age for the drivers is 25 years.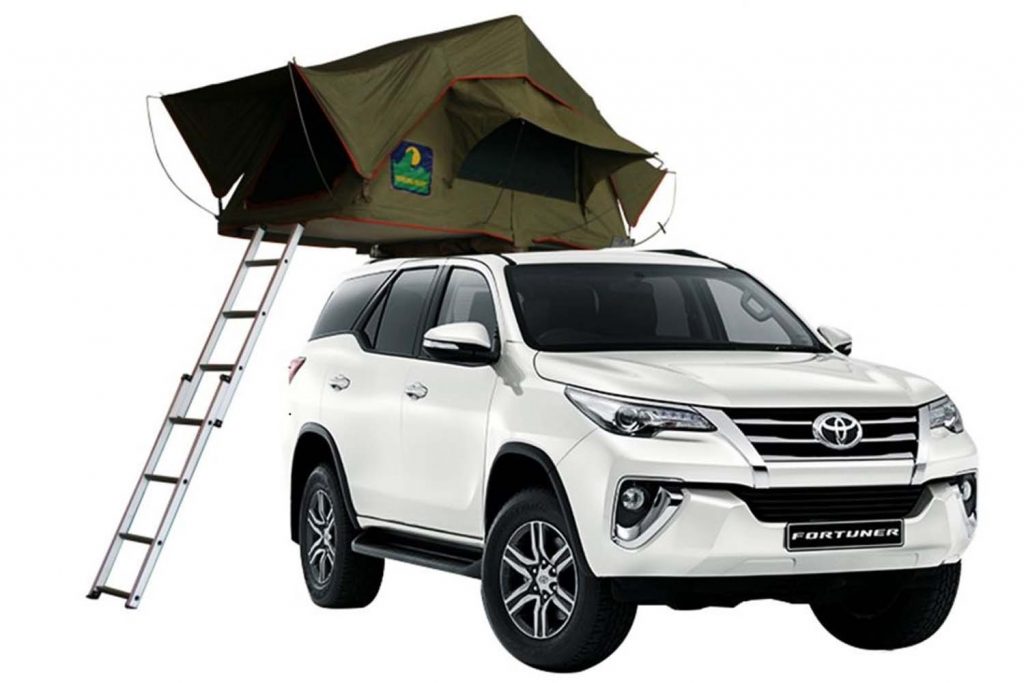 Extras/Upgrades
Full cover insurance
Booking all camp sites of a route of choice
Booking a self drive tour with car and lodge accommodation
Hotel Pickup
The vehicle will be dropped of at the airport or your accommodation (if more than 25 km away from the depot there will be extra charges). A full on explanaition of the vehicle is included. This will take about one hour
Select your very own 'home in the bush' from our range of quality 4×4 vehicles and leave the details to us! With us it is all taken care of.
If you like your freedom and look forward exploring the bush on your own then a 4×4 rental is the way forward. You have to be a little advanterous as the road in most Southern African countries can be quite challenging. Specially in the game parks during the dry or wet season. Campsites are alle pretty comfortable wherever you go. Some have swimming pools, eletricity and wifi, some don't. However, be preparred to change your own flat tire, border crossings can be long and draining and don't be scared if the animals walk around your tent at night!
Trip Planner
Design your own trip with our Trip-planner! Start now via: http://trip-planner.africantravels.com
We offer: Toyota Hilux; Toyota Landcruiser; Toyota D/Cab; Toyota S/Cab; Landcruiser Double Cab; Nissan X-Trail; VW Komb, Quantrum.
We offer (4×4) rental cars in South-Africa, Botswana, Namibia, Zimbabwe, Zambia and Mozambique!
Camping/lodge reservations
If you want us to do your route planning and do your campsite and lodge reservations, we will provide you with your own route that also is accessable via an App (offline available as well). Please let us know your preferences (camping inside or outside the parks) and we will suggest a route! You will have your route, addressess, emergency phonennumbers etc. all together. An overview of most campsites in Southern Africa you find here: https://www.caravanparks.com/, http://campsa.co.za/ or https://tracks4africa.co.za/ and https://www.sanparks.org/ for all South-African National Parks.
Please have a look for all campsites and fuel stations on https://tracks4africa.co.za/maps/africa/.
Insurances
All vehicles come with a standard cover. This cover carries an excess of R/N$45,000.00 / US$3230.00 which is applicable in the event of any accident or damage to either our vehicle or third party property. This excess of R/N$45,000.00 / US$3230.00 is pre-authorised on the renter's Visa or MasterCard credit card at the time of collection. Funds will only be deducted from this amount, should the renter return the vehicle in a damaged condition or for any 3rd party damage. If no claims exist, this excess is released within 21-30 working days from date of return, by the renter's financial institution. Standard liability cover does not include repair to or replacement of tyres and windscreens.
Reduced Excess Cover
A daily rate is charged per day as per your quotation/rental agreement. This cover is a NO EXCESS cover and is applicable to the vehicle and third party property damage and includes the cost of replacing or repairing of windscreens, rims & tyres, radio theft and recovery costs. A security deposit of R/N$3,000/US$215 is pre-authorised on the renter's Visa or MasterCard credit card at the time of collection to ensure that the vehicle is returned to the agreed location, on the agreed date, in a clean condition and no items are lost or damaged. This security deposit is fully refunded within 21-30 working days, after date of return, should all the terms and conditions be adhered to. Roll overs are never covered. In case you have a roll over accident and you don't want to get charged the full amount of the vehicle (starting at R340.000), we suggest you get an additional cover in your home country for car rentals that cover roll overs.
Pick up and drop off points
You can start and finish wherever you like: Johannesburg, Cape-Town, Windhoek, Kasane, Maun, Livingstone, Victoria Falls, Maputo, Port-Elizabeth, East London, Vilanculous. Please download the tour dossier for additional information about one way charges.
Vehicle Collection
Vehicle collection will take approx. 2-3 hours, depending on the questions asked and client feedback. This involves a thorough explanation and demonstration of the vehicle and its equipment.
Please note: Should there be any problems with the vehicle whilst in your care, please advise us within 24 hours, we will not be held liable or compensate for any time lost if the problem is only reported to us on drop off.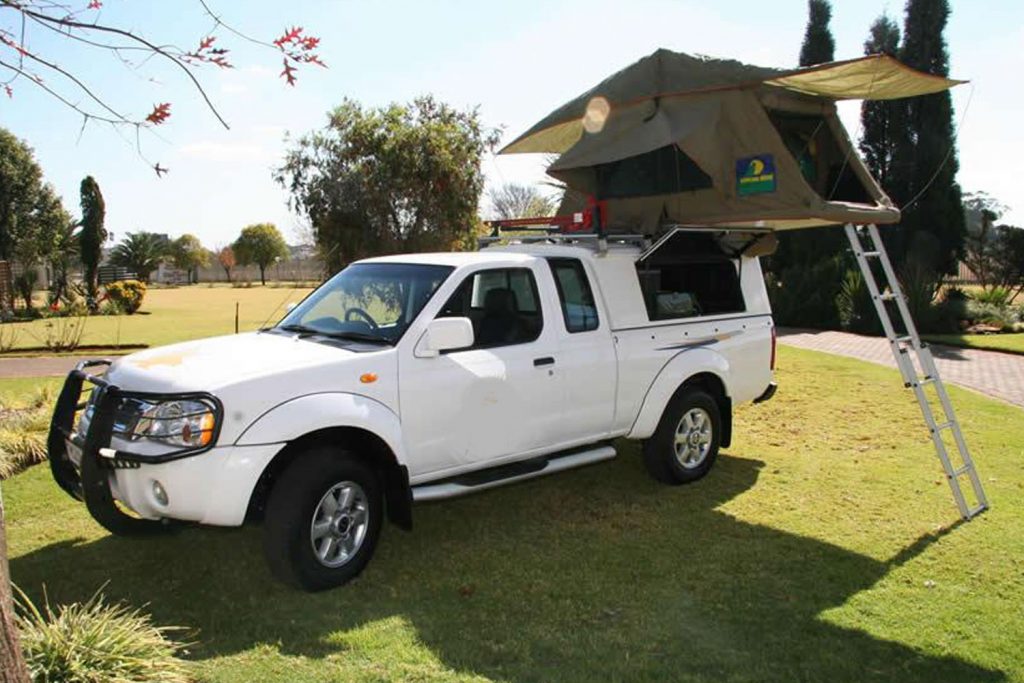 GPS with Tracks4Africa
Navigation System unit from Garmin guides you through all Southern African countries, off-road as well as on the road. Easy to use touch screen that shows distances and arrival time.
Hand-held (battery), or fixed in the vehicle powered by the cigarette lighter power outlet.
The Navigation System guides the user visually through turn-by-turn directions and verbally in 40 different languages to:
Custom addresses
Restaurants
Lodges, Hotels, Guesthouses, B&B's
Intersections
Fuel stations
Transportation locations (airports, vehicle rentals, public transport)
Shopping locations
Banks and ATMs
Parking
Hospitals
Vehicle service locations
Entertainment & Recreation
Attractions
Detailed off-road maps with coordinates (software: Tracks For Africa)
Detailed city maps (software: Garmin)
Excess in case of loss, stolen or heavy damage is €200.
Satellite Phone
Our cell phone network covers only 30% of Namibia.
In case of emergency a Satellite Phone offers you unlimited communications from even the remotest wilderness in Southern Africa.
It comes in a dust and waterproof case and includes a 220 V and 12 V car charger. Excess in case of loss, theft and damages is €200.